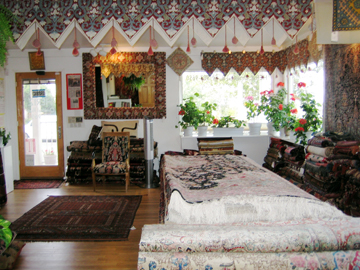 Here's why you don't want your valuable rugs and carpets to be steam-cleaned, machine washed, or machine spun!
Do not take your valuable rugs and carpets to a business that uses modern machinery for steam-cleaning, machine washing, or machine spinning. The heat from steam cleaning shrinks and damages the fibers including causing color runs. Only cold water will preserve the integrity of the colors and prevent runs and bleeds. The machine washing and machine spinning distort the shape of the rugs.
You can trust Heriz Rugs to clean and care for your rugs and carpets using museum-quality, traditional hand-washing methods. Floor arts and art textiles need to be treated with the utmost of care. We care for your rugs, carpets, and textiles to preserve their beauty and long-term integrity.
Call us at 505-983-9650 0r 505-920-9987 to discuss your rug care needs.